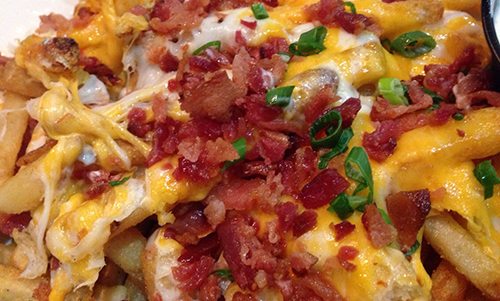 WINGS
Wings cooked to perfection, tossed in your choice of sauce and served with celery, ranch, or blue cheese for dipping. Try our smoky Jalapeno enhancer - it's a favorite.
Wet Sauces:
Honey BBQ, Carolina Gold, Original Wing, Sweet Thai Chili, Caribbean Jerk, Honey Garlic, Georgia Hot, Mango Habanero, 3 Mile Island
Dry Rubs:
Garlic Parmesan, Memphis, Lemon Pepper, Moroccan, Sweet & Spicy
Enhancers:
Smoky Jalapeno $1
6/$7.99 12/$14.99
THE DEVIL WENT DOWN TO GEORGIA
Enjoy our flight of eight deviled eggs- home style, smokey pimento cheese, cheesy bacon, and mustard horseradish. $6.99
CAJUN DIP
Made fresh in house with diced crawfish with lots of southern spices, served warm with toasted pita chips. $8.99
FRIED GREEN TOMATOES
Just like the movie! Lightly breaded tomatoes served with ranch or our GMAC sauce. $7.99
LOADED FRIES or TOTS
A pile of fries or tots covered in GMAC's own cheese sauce and topped with crisp bacon, sour cream, and green onions. $8.99
MAC & CHEESE BITES
Smoked gouda and bacon mac & cheese bites that are fried up real nice. Served with baja ranch. $7.99
COUNTRY FRIED STEAK STRIPS
Hand battered cube steak fried to perfection, served with our own white country gravy. $9.99
PORK EGG ROLLS
One of our most popular items, made in house with BBQ pulled pork mixed with our GMAC sauce and slaw. Served with sweet thai chili. $8.99
CHICKEN LIVERS
Crispy and savory chicken livers fried to perfection and served with our country white gravy. $8.99
CRACK CRACKERS
Warning! These ranch seasoned oyster crackers are addictive. $3.50
GMAC SHROOMS
A pile of button mushrooms, breaded and fried. Served with a side of ranch for dipping. $7.99
HUMMUS VEGGIE PLATE
Broccoli, celery, carrots, green and red peppers, and tomatoes with a roasted pepper hummus for dipping. $7.99
FRIED PICKLE CHIPS
Made in house! They are crispy, crunchy, and loaded with the dill flavor we love! Served with our zesty ranch. $7.99
CHICKEN TENDERS
Homestyle breaded breast strips served with your choice of sauce or gravy. $8.99
ONION RINGS
Served with ranch. $7.99
PRETZELS WITH CHEESE
Soft Pretzels served with our own fresh Georgia Mac's Cheese Sauce. $6.99
MOZZARELLA PLANKS
Large fried mozzarella with marinara. $7.99
CHICKEN QUESADILLA
Large flour tortilla grilled with chicken, peppers, and cheese. Served with sour cream. $9.99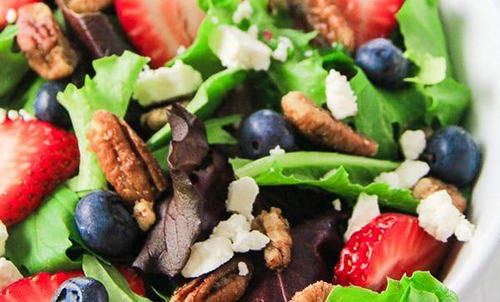 Dressings: Ranch, Blue Cheese, 1000 Island, Honey Mustard, Raspberry Vinaigrette, Oil & Vinegar, Baja Ranch, Caesar, Balsamic Vinaigrette, Creamy Italian, Fat Free Ranch
FRIED OR GRILLED CHICKEN
Fresh greens topped with grilled or fried chicken strips, cherry tomatoes, bacon, cheese, mushrooms, choice of dressing and croutons. $10.99
STRAWBERRY SALAD
Fresh strawberries, blueberries, candied pecans, and choice of chicken or shrimp on a bed of salad mix with raspberry vinaigrette. $10.99
COBB SALAD
Grilled chicken atop salad mix, cherry tomatoes, egg, bacon bits, blue cheese crumbles, avocados, choice of dressing and croutons. $10.99
FAJITA SALAD
Grilled chicken served with sautéed peppers, onion, tomatoes, with sliced avocado and served with Baja dressing. $10.99
SOUP OF THE DAY
Broccoli Cheese, Baked Potato, Buttery Tomato $3.99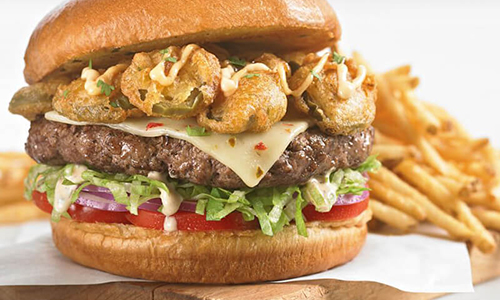 **ADD A FRIED EGG TO ANY BURGER FOR $1**
HAMBURGER
Served with fries. $9.99
CHEESEBURGER
Served with fries and your choice of cheese. $10.99
Choices: American, Provelone, Cheddar, Pepperjack, Blue Cheese, Swiss.
GMAC BACON BURGER
Our burger covered with bacon onion jam and topped with caramelized onions and bacon on a toasted brioche bun. $11.99
BBQ BURGER
Burger topped with cheddar cheese, crispy onion rings, and tangy bbq sauce. $11.99
BOTTLE CAP BURGER
Burger topped with fried jalapeno bottle caps, topped with pepperjack cheese on a toasted brioche bun. $10.99
BLACK N' BLUE BURGER
Blackened burger with bacon and blue cheese crumbles on a brioche bun. $11.99
FRISCO MELT
Burger covered in American and provolone cheese, caramelized onions, and 1000 island dressing, served on a toasted sourdough. $11.99
GEORGIA MAC MAC BURGER
Better than the original; two patties, bacon, special sauce, lettuce, cheese, pickle, onion, on a brioche bun. $13.99
(Consuming raw or undercooked meats, poultry, seafood, shellfish, or eggs may increase your risk of foodborne illness)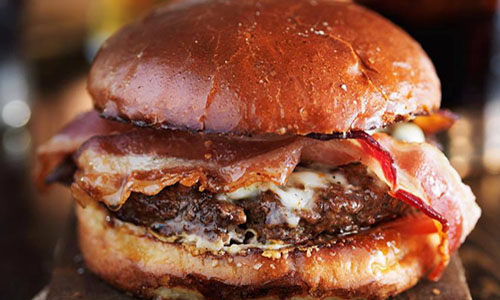 2 Sliders served on a toasted pretzel bun with your choice of fries or tots.
HOT HAM AND CHEESE
$9.99
GRILLED CHICKEN
$9.99
BBQ PULLED PORK AND SLAW
$9.99
CHEESEBURGER
$9.99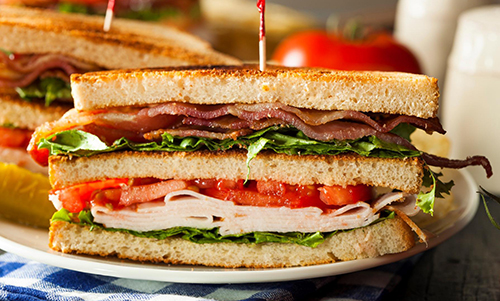 All sandwiches served with fries or tots. Add sweet potato fries for $1.99
YOU PICK TWO
Your choice of 2 sliders, ½ grill cheese, soup, small salad, or chips. $8.99
BLFGT
Our version of a BLT, served with our own fried green tomatoes, bacon, and lettuce. Topped with our GMAC sauce. $9.99
GRILLED CHEESE
A crispy toasted cheese bread exterior with American, pepper jack, and provel cheesiness!! $7.99
Add bacon, ham, tomato, egg, or avocado for additional $.99 each.
CLUB SANDWICH
Possibly the world's greatest sandwich made on toasted sourdough spread with GMAC's sauce and piled high with ham, turkey, bacon, cheddar, lettuce, and tomato $10.99
BUFFALO CHICKEN WRAP
A soft tortilla wrapped around fried chicken strips with buffalo sauce, lettuce, tomato, shredded cheese, and topped with ranch. $10.99
AVOCADO CHICKEN WRAP
A soft tortilla wrapped around grilled chicken strips, lettuce, tomato, shredded cheese, avocado, and topped with ranch. $10.99
G-MACRIB
Better than the original rib sandwich, glazed in our honey BBQ sauce topped with onion and pickles served on a hoagie roll. $11.99
PORK TENDERLOIN
Always a favorite! Our fried tenderloin served with lettuce and tomato topped with our signature GMAC sauce on a toasted bun. $9.99
PHILLY CHEESESTEAK
Thinly sliced ribeye steak served with sautéed onions and peppers smothered in our Georgia Mac's cheese sauce served on a hoagie roll and served with fries. $10.99
PO BOY
Your choice of creole seasoned fried shrimp or catfish and served with our Georgia Mac's sauce, lettuce, and tomato with your choice of side. $11.99
THE CUBANO
Smoked pork served with ham, swiss cheese, dijon mustard, and pickles served on our hoagie roll. $10.99
GEORGIA HOT CHICKEN
Our fried chicken sandwich tossed in our own Georgia Hot sauce and topped with coleslaw and pickles. $9.99
MEATLOAF SANDWICH
Made in house meatloaf served either warm with pepperjack cheese, our special glaze and topped with sliced onion served on our hoagie roll. $9.99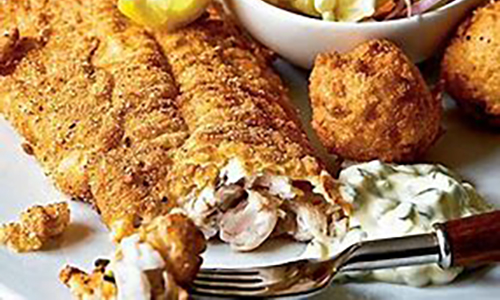 CATFISH BASKET
Fresh fried American raised catfish regular or spicy, and served with fries, jalapeno hushpuppies and coleslaw with our signature tartar sauce $13.99
SHRIMP BASKET
Fried shrimp served with jalapeno hushpuppies, fries, coleslaw, and our own cocktail sauce $12.99
CHICKEN TENDERS
Always a favorite! Hand battered chicken tenders served with fries and choice of one side. $15.99
MEATLOAF
Made in house with two large slices and served with your choice of two sides. $13.99
MAC N' CHEESE BOWL
Made from scratch mac n' cheese bowl topped with our chicken tenders tossed in buffalo sauce topped with green onion. $12.99
COUNTRY FRIED STEAK
Hand battered cube steak fried to perfection, smothered with our own white gravy and your choice of two sides. $13.99
Lunch portion available with one side $11.99
BABY BACK RIBS
Your choice of full rack or half rack of ribs that will make your mouth water. Served with your choice of two sides.
Rack $24.99 | Half Rack $17.99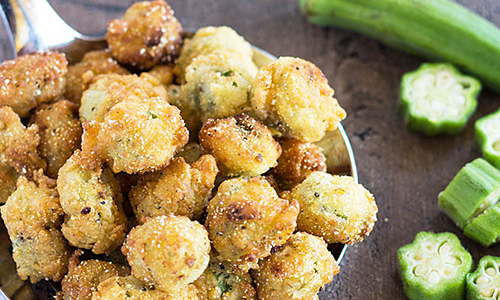 ALA CARTE:
Fries, Fried Okra, Tator Tots, Cole Slaw, Chips, Cajun Potato Salad, Cucumber Salad, Mash Potatoes, Roasted Veggies, Mash Potatoes & Gravy, Steamed Broccoli, Honey Buttered Corn $1.99
PREMIUM ALA CARTE:
Sweet Potato Fries, Onion Rings, Mac & Cheese, Side Salad, Loaded Mashed Potatoes $2.99
FRIED PIES
Your choice of Peach, Apple, Cherry, and served with ice cream. $5.99